The long days of summer filled with poolside brunches, beach-happy wardrobes and fruity cocktails might be over, yet your wardrobe need not be as grey as the rainy days that follow. And an end of season sale promises to bring the best of spring-summer colours and flavours back in your life.
From bargain shoppers to fashionistas, these sales are the best way to amp up your style statement for the rest of the year. And whether it's nifty layering for winter or pops of colour for your autumn look, your summer sale purchase will go a long way.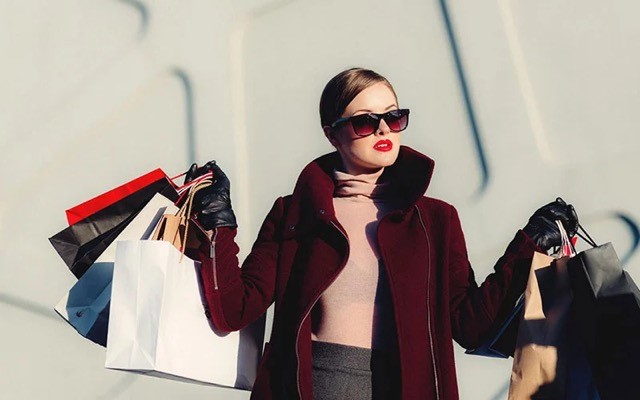 End of season sales can be fun, adventurous and a great opportunity to remake your wardrobe for a steal. Fashion forward shoppers have long since kept track of the season's greatest hits only to stock up when the prices drop. And the art of bargain shopping is often the key to the trendiest wardrobe in town.
How to be a smart bargain shopper
End of season sales can be exciting as well as somewhat like an Olympian obstacle course. And one for which you must be fully prepared. First of all, have a list in place of the things you need and an approximate budget for a day. And the new jeans, monochromatic separates, a pair of sunnies, a tote... once these are checked off, calculate your remaining budget and head for the impulse buys. Second, wear your comfiest shoes and those that you can slip in and out off during trials. Also remember to wear clothing that you can get in and out of easily to make your many visits to the changing room painless and quick. Third, go in a group. That way you and your friends can stake out your favourite brands and their offerings and then settle down over a coffee to discuss the best strategy to get your wishlist home. Finally, stay dehydrated, take breaks for food and coffee as the EOSS is meant to be a fun day out.
Outfits of the week, beach holidays and bargains
Get your summer joie de vivre back at DLF Promenade's end of season sales with upto 50% off across the mall's brands. Whether it's high street fashion or haute couture, fragrances or footwear, this sale is the best of new trends and classics that never go out of style. So here is your chance to be a fashion forward shopper without burning a hole in your bank account.
Discounts up to 50% discount at your favourite brands will make your shopping spree easy and exciting. Imagine a dream wishlist—runway hits from Mango, spring pastels and elegant silhouettes from Forever New, breezy office wear from Marks & Spencer, sophisticated evening wear from Kazo, ethnic Indian from Label Ritu Kumar and on point summer bags, accessories and shoes from ALDO, Da Milano and Charles & Keith—at an unbeatable price.
Picture a flaming red handloom saree from Fabindia or a colour-blocked shirt from Madison. Segue from your work day to the evening with these specially curated statement fashion pieces. This "Outfit of the Week'' offer is up for grabs for die-hard sale shoppers till the end of the sale. For all those who shop for Rs 10,000 and above, there is also an assured Rs 1,000 voucher as a droolworthy extra.
And if the shopping highs aren't enough, there is more in the basket to keep you going. Visitors who shop for Rs 50,000 and above are eligible for a lucky draw and the grand prize is a dream beach vacation at Kandima Maldives, the uber cool island resort with expansive living and dining options as well as a plethora of activities on land and in water. Six lucky shoppers (and their plus ones) will also get a chance to take in the best of the Pink City's cultural offerings with a 2N/3D stay at Fairmont Jaipur, a luxurious retreat inspired by Jaipur's regal past.
So what are you waiting for? Pull on your walking shoes, get your peppiest summer playlist on your phone and make your way to the city's most sizzling end of season sale.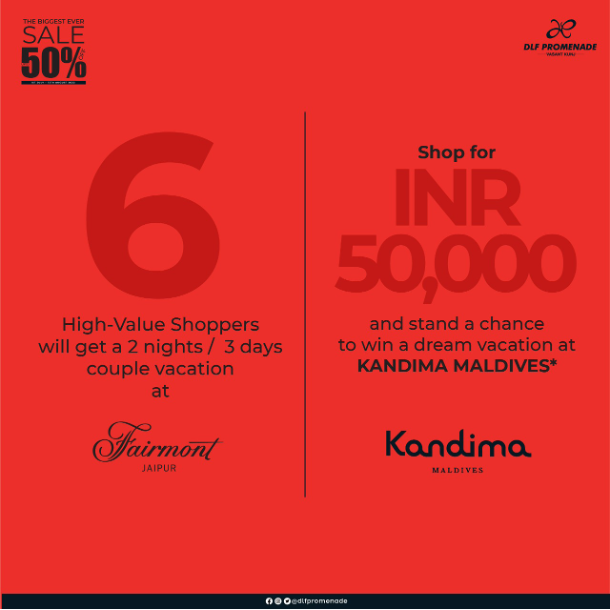 Visit DLF Promenade from 1st July-15th August to grab the red hot End of Season Sale.